Photo Tours - Introduction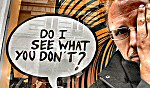 Discover the world's most photogenic city through the eyes of some of its biggest photo fans! Paris photographer, artist, poet and teacher Sab Will has put together a small team of skilled and passionate photographers just waiting to show you a Paris which will amaze and delight you!
From classic monuments to striking modern sculpture; from hidden corners to avant-garde surprises; your dedicated Parisian photographer is waiting to show you the true heart of this truly wonderful city.
With this tour you will get an extraordinary insider's vision to see Paris in a completely different light. Your experienced and enthusiastic guide will lead you on a voyage of photographic discovery, helping you to create your best images ever, in the world's favourite photo location.
Your tour will be extremely rewarding and the pace invigorating! With many years' experience of capturing the French capital, Sab and his team have a great deal to pass on to you, both about photography and Paris in general.
The type of camera you have is not important. Enthusiasm and imagination are key! Whether you possess the latest digital SLR, or a €10 throwaway, we will teach you to develop your 'photographer's eye' and see things in a completely different way.
In our capable hands you will capture all the magic and intrigue of this historic and surprisingly contemporary capital.