Croissant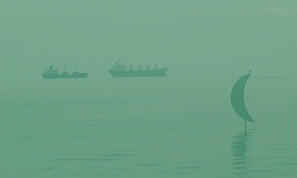 The moon is a croissant
Toasting in the sun
Or melty dribbly holey cheese
For spreading on my bun

The stars are grapes and olives
Sparkling juicy orbs
The planets melons, figs and dates
My greedy tum absorbs

And planet Earth my staple food
My bread my rice and pasta
She feeds me up with all that's fine
But what else rhymes 'cept "Rasta"?!
Disaster? Alabaster???