Colour Poem
(Stones & Shells for Angie)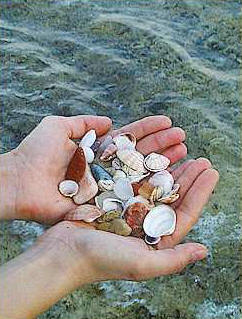 Look at this red one-
Do you think
He was a baby,
Tickled pink?
This one's translucent,
Misty white-
Like melting ice,
On muggy nights.
Now yellow grabs
Your darting gaze,
A slender stone,
Banana haze.
Like precious fruit
You beckon in
This thirsty traveller,
Orange sin.
And here's a bluey,
Fantasise-
Of blinding lights
And burning eyes.
A stone as black
As this, I fear,
Can only mean
That night is near.
Green as the ocean
Bed at rest,
Your glinting hints
Betray your nest.
While purple passion,
Ocean lust...
Devour my dreams:
They turn to dust.