Peter
from Sunshine Coast, Queensland, Australia:
Of all the places I visited and the opportunities I had to see and be involved with photography during my three months in Europe the day I spent with " Paris Set Me Free" was a major highlight.
In particular I liked the chance to go to places that were not frequented by tourists and of more importance the chance to take images similar to my preferred style. Sab had done his "homework" prior to the lesson to understand my image genre.

I could not have wished for anything more and even thought later that I should have extended my time in Paris and done a further tour.
I also liked how Sab was able to give hints and suggestions and showed his images, that way you could determine if the photo could be improved in some way.
---
Jane
from Rhode Island, USA:
I had a great time on the trip and I learned a lot. To begin with, I am much more comfortable with my equipment and use it more effectively. I also look at things differently now…especially small things that did not attract me before…and then look at it in relation to other things around it.
I learned to zoom in to narrow my view instead of always looking at everything as a grand scene…although I still love doing that too.
Sab validated the fact that I am allowed to (should) take A LOT of shots of something so that I can find the right image…something that drives my family insane.
I also learned a lot about Paris from Sab…stories about people and places and how to respond to those people and places. I have not been in Paris for 35 years so it was a fascinating, and well-worthwhile 4 hour journey. Thanks Sab!
---
William & Jessica
from Belfast, Northern Ireland:
Got some great photographs, memories and inspiration. Sab gave us patience and technical suggestion.
Jessica is 12 and was very comfortable with the Instruction and Sab geared the experience to our needs exactly.
He gave us useful tips about getting around Paris and guided us to the Louvre. I heartily recommend Sab's tour.
---
Lynne
from Sydney, Australia: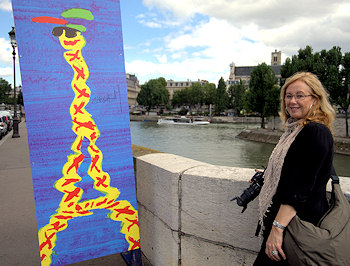 I had a great time on Wednesday morning. You were the perfect tour guide for me, I learned so much about my new camera plus making my shots more interesting - I am looking for photo opportunities wherever I go.
Took about 250 in the morning with you then another 150 in Jardin de Luxemburg in the afternoon.
Can't thank you enough, you were so patient and laid back and kept things simple and not too technical. Will send through 5 of my favourites as you asked.

---
Elena from Visaginas, Lithuania: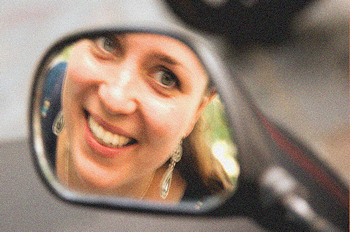 It wasn't a photography lesson – we didn't get down to much theory. It wasn't a tour for we only walked a couple of blocks. It was a journey into street photography, from the moment the thought is conceived in the photographer's mind – to the actual result which made me suppress the wish to clap my hands with excitement.
I had a feeling of being behind the scenes of an indie movie. We took pictures of the café table (round shapes), two pairs of legs, the very French shop sign reflected in an old scooter's mirror, ourselves – fuzzy and out of focus, the signs on the pavement, shadows, walls and random people. It was almost surreal, an eye opener – so many things on a street, so many ways to photograph it, so many shades of meaning I might have missed but I didn't this time, thanks to Sab. He has a great eye for detail, an amazing imagination, to listen to his brainstorming and witness his "seeing" process was an inspiration in itself.
I had a remarkable two-hour "Alice in Wonderland" journey where things you're used to seeing take a different shape, texture, feel and the best thing is that you can capture it and take it away with you, a mugshot of a reality dimension, a mini–masterpiece if you're lucky.
I am very grateful to Sab for this wonderful experience, it was hugely useful and encouraging. I saw a lot, I learnt a lot, mainly – how to see something special in a seemingly mundane picture and to convey it onto whatever digital means you have in a personally created way. Wonderful! It will stay with me for a long time and I will go back when I can, for more..