Selected Testimonials ~ 2009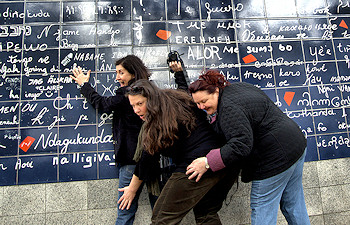 Karen from Brisbane, Australia:
Sab was fabulous, I had a brand new camera and he taught me how to get the most of my shots , utilising many of the features on my camera. I wanted to learn how to structure a shot to make it more interesting. He was very patient and gave constructive criticism. We rambled around Montmartre and the old town area and discovered some interesting sites to photograph.
It was a great day and I didn't want it to end. Had a fabulous day and would recommend this tour to all inspiring photographers, whatever your experience.
---
Ruthie from Wilmington, Delaware, USA:
I can't even begin to describe how much I learned from this tour. Not only did I get to see the Latin Quarter and Montmartre with an "insider" - our tour took us off the beaten path (which is what I wanted), but Sab told me interesting facts about the areas as we were walking around.
He pointed out areas to photograph that truly give you the flavor of Paris and he actually discovered new things himself as we walked.
I learned a lot about my camera and really did get a whole new perspective on photography. I will hopefully be able to incorporate my new knowledge into my photography business at home.
I highly recommend this to everyone - it was the absolute highlight of my trip.
---
René & Lisa from Antwerp, Belgium:
Lisa and I want to thank you very much for the wonderful Saturday along the streets of Paris!
Our encounter was not only a complete (but very much welcome!) surprise for me, it led to hours of pleasure exchanging views and approaches, and discussing photography in general.
I thoroughly enjoyed this inspiring experience: you brought us to places full of visual opportunities, you were great at challenging what I was seeing and doing, and above all you helped me find some ideas and directions to explore in the future. For now more than ever I remain convinced that I simply have to make photography a bigger part of my life.
I only feel bad that we had to end the day so abruptly, without even having the chance to offer you a coffee! But as you know we were in a hurry for the next event, another pleasant surprise (and leading to more photo opportunities!).
I so far found only a few moments to discover your website - it's so rich that it will take me some time to enjoy all of it! So more fun for a couple of evenings…
I have kept notes on what we discussed and on the items I promised to get back to you about. That will happen in the days to come. I am looking forward to send you some shots for critique, and I also will send you a link to the resulting 'Paris collection' as soon as I complete my post-processing.
I wish you all the best with your many Paris activities and with your exhibition in Brussels. If you ever get the chance to spend some time in Antwerp (or any other place in Belgium) feel free to let me know, and if at all possible we'll link up.
For now, once again many many thanks!
---
Daniel from Newmarket, UK:
I have thoroughly enjoyed the eight hours I have had so far, although probably still not enough!
Aside from enabling me to understand the camera, Sab really gave me a great insight in how to "see" interesting subjects and shapes, and subsequently how to best enhance their value in a photographic context.
I am very proud of the portraits I took and hope they will make great gifts to family members.
Sab knew Paris really well, so we wasted very little time getting to the best locations to capture the heart of the city. I would certainly recommend Sab to others who wanted to expand their photographic experience.
---
Anne & Jonathan from Sydney, Australia:
Sab offered a different perspective to photography touring I've previous participated in.
He provided context by briefly dabbling into both the history and social idiosyncrasies of the area prior to shooting.
He focused on perspective and viewpoints without delving much into the technical aspects of the camera. Just what we preferred. Learnt new techniques and had a good time.
A friendly and knowledgeable tour guide he made the event very enjoyable and memorable.
---
Zvonimir from Zagreb, Croatia:
I very much enjoyed our photo tour in Latin Quarter. Sab made it possible for me to see beyond classical "tourist" attractions as I wanted a bit different photo experience of Paris. He also shared many technical points in order to improve my overall photo skills.
We had few hundred pics together, now I will have a hard time selecting really best among them to represent my experience of Latin Quartier this January.