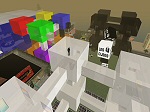 Paris Set Me Free has a Second Life !

Second Life is an amazing virtual world and I've created three extremely unusual galleries to show off some of my favourite photos and paintings.

When you first go to Second Life you create an avatar which will represent you as you wander around this incredible universe. As soon as you have your avatar and have learned some basic movements you can visit the 'mainland' and check out the Paris Set Me Free galleries, which are actually called 'Les Cubes' (The Cubes in French, as you probably guessed).

The design of the galleries was inspired by my paintings, which are squares consisting of three times three square canvases forming a single picture.

I'm sure you will enjoy walking around the galleries, which have lots of surprises waiting for you, including floors with holes in, fly-through roofs (yes, you can fly in Second Life!) and more.

To visit Les Cubes once you've got used to the wonderful world of Second Life:
click on 'Map' in the bar at the bottom of the Second Life screen
type 'Ares' in the box next to the oval Search button on the right
click on 'Ares Dream Island' in the Search Results box
click Teleport and welcome to Les Cubes !
http://slurl.com/secondlife/Ares%20Dream%20Island/143/208/0
Alternatively, above is a direct link which might just work once you've set up and opened Second Life on your computer (click it or paste it into your browser), but may well not, so method one is probably the most reliable. Once you arrive on Ares Dream Island, look around and you should be able to find Les Cubes quite easily - they're pretty easy to spot!
And finally, please let us know if you've made it to Les Cubes and what you thought about it.