Ashford International
"Ladies and gentlemen.
In a few minutes we will be arriving at Ashford International.
Would passengers leaving the train please ensure that they take all their belongings with them.
On behalf of the train staff I would like to thank you for travelling with us today and hope that you have had a pleasant journey aboard Eurostar.
We look forward to seeing you again soon."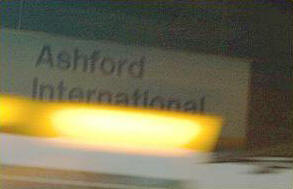 Dear Train Manager,
I thank you sincerely for your kind wishes.
I have only once alighted at Ashford International
And only once wish to have done so.
A year ago.
From the ominous sleekness of your snub-nosed brute
To the bucolic rhythms of a tamer beast.
No slyly sliding doors to trap me on this little local choo-choo.
Just the clacking and squealing of honest locks and hinges.
Doors swinging shut by manpower, by my power
And chugging off to Canterbury I went.
For two weeks.
To Canterbury, did I say? No!
To heaven - to them - to her.
To a crazy fortnight of drama and dreams.
A life was in limbo on the slow line to the downs.
What didn't we do?
Damn your Eurostar!
We met and we gazed,
Floating on grass.
We heard the cathedral bells chime for us
And rode their echoes to faraway lands.
They were so sweet, the locals.
They arranged for that restaurant to pop up
At just the right place and time.
The moon even kissed the sun in our honour
As our hearts collided, and eclipsed the world.
While the busker played his sad lament.
How did 'he' know it couldn't last
For more than a whistle-blow?
A quick stop-over.
Departure imminent.
We grasped at hope
Clutching rescheduled tickets.
The station-master was gesturing furiously
When we crashed into view, red-faced and struggling,
With heavy suitcases heaving with memories
And warm English rain on our cheeks.
Your Eurostar was waiting, of course.
Cynically, to slip me away
From Ashford International
Back to France.
I was travelling alone again.
In the wrong direction, facing backwards.
But the service was excellent
And I had a very pleasant journey.
Smooth. Efficient. A perfectly normal trip.
Except that something was different.
I had changed.
I was two weeks older
And had developed a persistent ringing in my ears.