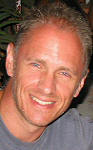 FREE On-Line Digital Photography Course
~ Part 1 - 'Equipment' ~
---
NOTE - This is a new course - there is currently very little content! Please visit the Photo Blog to read the latest lessons - THANK YOU!
---
You don't need much stuff to get started in photography - €10/$10/£10 will get you a cheap throwaway camera... but some people spend many thousands. These lessons will help get you started.
What is photography?
The photographer's toolbox
Discovering 'The Eye'
---
The most essential piece of equipment, let's be honest! But the possibilities are enormous. An introduction.
The plastic throwaway
The point 'n' shoot
The bridge camera
The SLR (single lens reflex)
---
A vital piece of equipment for serious photographers, especially for landscapes and night work.
The flash
The filters
The computer
The printer
The website
Exposure
Shutter speed
Aperture
Sharpness
---